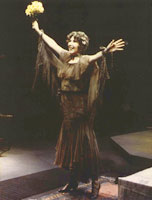 Inaugural Season
September 17-December 21, 1975
The Glass Menagerie
By Tennessee Williams
Directed by Shaktman
Every element designed by Peter Wexler who was also responsible for the design of PPTs performing space (photo at top of this page.] With Carole Teitel, as Amanda, Amy Wright, as Laura, David Snell, Tom and Steve Simpson's The Gentleman Caller. They realized the dream of bringing best quality theater back to Pittsburgh.
One Flew Over the Cuckoo's Nest
By Ken Kesey and Dale Wasserman, Jr.
Directed by John Going
Featuring Tom Atkins as McMurphy, this was the "happening" that put PPT in the hearts and minds of our audience. Atkins returned to his hometown and created a whirlwind performance in Jack Going's raucous production. With Ralph Roberts, Carol Mayo Jenkins, Amy Wright, Michael Thompson, Steve Simpson, Albert Corbin, Tom Carson, John Long, Tony Aylward. PPT became the-place-to-be-entertained in the city. Cuckoo's Nest became a very difficult ticket to get. Those who cared about live theater and were waiting to see if we would make it worth their support wanted to see what all the shouting was about. Peter Wexler designed the scenery and lighting. Whitney Blausen designed the costumes.
Twelfth Night
By Shakespeare
Directed by Shaktman
So important to me to include Shakespeare in PPTs inaugural season and to find the right combination of comic actors who could manage the text and wear the clothes to perfection. Casting director Edith Oliver Rea found a way to bring together this cast who would each be paid minimum wages, live in whatever reasonable housing we could find for them and be fed mostly by volunteers and trustees. The actors included Pamela Brook, Tom Carson, Al Corbin, Michael Flanagan, Christine Hulter, Jeanette Landis, John Long, Michael V. Murphy, and Steve Simpson. Also in the cast was Leonard Nimoy as Malvolio, who dazzled on both sides of the line between outrageous and ingenious comic acting. Designers were David Chapman, Bernard J. Brannigan. Music by Stephen C. Horelick. Dueling staged by Christopher Tanner.

"Rarely has a regional theater gotten off to such a fast, quality start as this," Martin Gottfried, drama critic NY Post"
Just one of this season's most remarkable events
We were granted use of a city-owned and operated, landmark building from just after Labor Day 1975 to December 24, or 3 days after our first season ended. It was one of the first Carnegie Public Libraries in the US. Peter Wexler designed a theater-in-a-rectangle that resembled a Spanish courtyard but more than 50' high, 120' long and 40' wide. Surrounded on four sides with stage level seats, a first balcony of one row of seats, a second balcony of one row of seats and a third balcony for lighting, rigging and where the stage manager ran the show -- with as high a birds-eye view imaginable.

Wexler's brilliant scheme to meet the requirements of having only one-week to install the Pittsburgh Public Theater in its performance space as well as having 3 days to dismantle it: building scaffolding selected from stock scaffolding pipe, painted black.

Within this 50ft-high framework, mammoth platforms were custom cut within the space itself then piece by heavy piece expertly hoisted into place under the direction of Bernard Brannigan, PPTs technical director and patron saint. He was born and raised in Pittsburgh and was the grandson, son and brother of a family of theater technicians. So Brannigan knew where to find the best equipment that more than met every safety standard demanded by the city's stringent codes for a public space. His reputation as a longtime, successful Broadway stagehand made it relatively easy to recruit the local manpower who would be assembling the scaffolding, building the seats, rigging the lighting and hoisting platforms into position by opening night, September 17. And then to taking it all down and storing it - 72 hours after this season's closing night. They wanted to work with and learn from Brannigan. Which they did for three years as PPTs "home" was put up and taken down flawlessly.

Bernie Brannigan

First Cover Story

M. Reick, Ben, J. Apt
Founders
Exactly 30 Years Later
On September 17, 2005 a celebration of PPTs Opening Night was held in New York. Invited were the featured players in every sense of the word who gave life to this theater: Designer Peter Wexler, Technical Director Bernard Brannigan, Development Director Marie Nugent-Head, Casting and Outreach Director Edith Oliver Rea; and the cast of The Glass Menagerie – Steve Simpson, David Snell and Amy Wright. In memoriam was Carol Teitel. Joan Apt and Margaret Reick who co-founded the theater with me were much discussed and celebrated.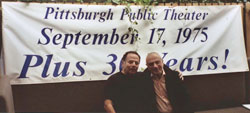 Peter Wexler
Edith Oliver Rea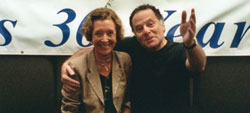 Marie Nugent-Head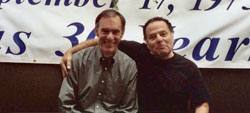 David Snell
Steve Simpson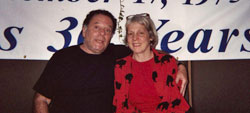 Amy Wright

Carol Teitel